Android Company in Lucknow
Nowadays, we all know that Smartphones have become the main need of people to survive in this competitive world. From a business point of view, developing Android apps for your enterprise will leverage your business sector. IPH Technologies is one of the finest Android Companies in Lucknow offering scalable, customer-friendly, innovative Android Apps for your brand or business. If you're looking to get your app on the Android Store, your search for the perfect Android development partner ends here. At IPH technologies, we understand today's high demand of Android OS and the value of Android mobile apps' development, that's the reason which drives our developers to work hard in delivering the refined and attractive Android apps as per clients demand.
By serving 500+ Clients with Best Software, iOS and Android Mobile Application Development Services across the world, IPH Technologies has created huge significant in some top cities in India as best Mobile Application Development in Bangalore, Lucknow, and Delhi. It is important to note that IPH Technologies is offering the best full-service Android App Development Company in Lucknow, which is the Silicon Valley of India. Also, we have the most experienced Android developers for the design, development, testing, and deployment of Android Apps. Currently, we are amongst the top android development companies in Lucknow, with expertise in Android Software Development Kit (SDK), 3D graphics, and other technologies required to build the most advanced Android apps.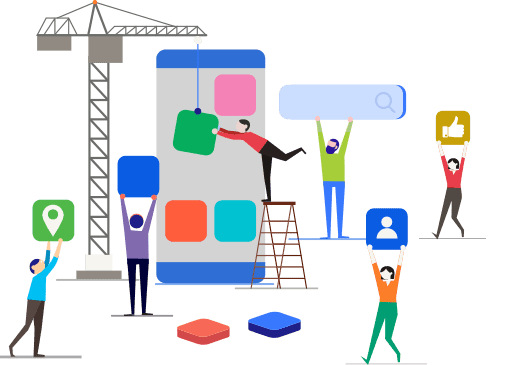 Why You Need Interactive Android App Development?
Today, where digital marketing has achieved massive success in business promotion, marketers understand the need for the presence of a mobile app. If you are planning to take advantage of this overwhelming popularity of the smartphone through apps, Android should be in the top of your list. By having years of experience in the development field, our experts have designed over 1000 mobile apps and digital products across various suitable platforms and devices. Our work has delivered business impact for our clients, in terms of better user-engagement and revenue.
We design desired Apps to Monetize Your Ideas
Our Android developers are professionally skilled as they have worked on multiple projects for various sectors and crafted android apps of different styles. If you are looking for Android Companies in Lucknow, you must hire dedicated Android developer from IPH Technologies.
We focus on designing beautiful Android Apps. Whether you pick Google's design principles for your needs or select your own personalized design, you can rest sure that your Android app will look totally fabulous!
After we finish and furnish your fully functional App within the assured time frame, it is our responsibility to submit your app to its respective app stores. This will enlarge your app specific customer base.