Progressive web apps and its benefits
Food cravings are common, people love to munch on their favorite foods! What's better if you provide them this in the comfort of their homes? It is the reason food delivery app Development options are in demand. Popular apps like Grubhub, Zomato, Swiggy, and Uber Eats are reaping high yields to many businesses. You can add profits to your food joint business by connecting with a good food delivery app development company.
Getting home deliveries from favorite food joints is today's latest trend! It's high time that restaurant businesses understand the vitality of on-demand food delivery app development company hire. Get an app design where customers can reach out to you with just a tap.
Two trending Food delivery app development models:
1. Aggregator model
2. Food delivery model with logistics support.
Let's get into the detailed structure of these platforms and their working.
Aggregator Food delivery model for beginners

This platform is relevant to the conventional food delivery style. Third parties acting as a mediator between food joint and the end customer. They offer a platform where customers can scroll through favorite food delicacies and menus. Aggregator platform aims at giving exposure to the food business.
Users can sign in and start making orders after going through reviews, ratings, prices, and food options. The order is then passed on to the restaurant owners for final delivery. But the end delivery is made by the restaurant staff. If you are a big business set up in the food industry, the aggregator food delivery app development model is a great choice!
Grubhub, like logistics based food delivery model

This is an on-demand food delivery app development model these days. It offers logistics support to its partners. With this platform into a trend, even the smallest food joints and corners can offer home delivery services. It has generated better business prospects and developed new horizons for small entities.
The logistic model works wonder for those who cannot maintain a full-fledge delivery system. Grubhub and other popular apps are based on this model only. No worries for delivery persons or vehicles as the aggregator will make all delivery arrangements. From the above comparisons, you can figure out the vitality of Grubhub like app models that gives your business a wide exposure.
Reasons to generate on-demand food delivery app development for food business owners:
1. You are clueless about targeted audiences.
2. Unsure of kind of versions you need.
3. Improper understanding of the essential features of a food delivery app.
4. Lack of funds, manpower and promotional backups to counter higher customer base.
Tips to create a popular food delivery app such as Grubhub/Uber Eats!
Smart tactics can only give your business height in this rat race. Ensuring your market presence is the only way to cross the hindrances and create an overwhelming platform for start-ups. Identify your customer base for food delivery app development, Just good quality food cannot taste your food joint to sky heights. You need to make it look appealing so that customers believe in its taste. Targeting audiences wisely. You can score at corporates and professionals as they are more indulged in-home delivery of foods. You meet their busy schedule with healthy and fresh cooked food. They always hunt for fresh and healthy as their lifestyle is a mess.
On the other hand, you can target foodies who are in search of tasty and mouth melting delicacies. Diet is not their criteria as they love munching on favorite pizza, burgers, and ice creams along with a Netflix binge-watch. Identify your USP and focus on it while hiring a food delivery app Development Company.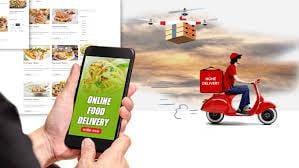 On-demand food delivery app development is not the same as other apps. You need to get 4 types of apps developed under a single platform. They include:
1. Consumer app
2. Delivery driver App
3. Restaurant web admin app
4. Restaurant App
5. Start preparing the App.
To start up with, the basic idea is to just keep it simple. Users as well as the food joint owner would prefer Grubhub like apps that are free from any jeopardizes. Just a few clicks and orders should be placed. It is important to ensure in-depth know how about database and delivery parameters like GPS accessibility.
Being a business owner, you must have an app through which orders, deliveries, and client list can be well-maintained. Any loophole in the food delivery app can obstruct your success.
Credentials of an ideal user/customer food delivery app
A crucial part of any food delivery add development is its UI must appear very interactive. Whenever the user installs the app, accessing the food joint, menus, prices, delivery, and payment options must be on their fingertips. It's the only way you can retain them as your permanent customer.
What pushes the user to place an order on any food delivery app?
Getting a hold on the user's mind can help in acquiring the perfect checklist for a business owner to hire a food delivery app Development Company.
Hassle-free registration and account set up process
User navigation starts with a sign-up process. Create an app where users can sign in within a few seconds. Any tedious steps can divert the user from your app and ensure their exit. Social media logins are in trend as they allow sign-ins with a single tap.
Ensure a simplified search for food joints and restaurants
The next step is to search for desired delicacies at popular restaurants. Allow users to provide GPS access to find their location. It helps in displaying a list of nearby restaurants for navigated food items. Immediate display of cuisine list, special combos, reviews, and prices must be in front of them. Allow a restaurant name search as well.
Placing final order
The easy add to cart option allows customers to get driven with the order quickly. Give options for extras, just like they do order at hotels. Also, the delete option ensures that they can erase unwanted items from the cart.
Offer tracking system
Customers can't wait for their favorite cake or pizza on its way. Tracking assures them they will have a bite shortly!
Payment security is the key
The payment set up must be quick and convenient. Ask your on- demand food delivery app developer to provide a list of all payment options that are sorted.
Essentials of food delivery app development for Restaurant owners:
Get the restaurant registered- Registration and password management applications should be simple to go through. Reset and change password options are important.
Content for your App-Ensure that the business owner can easily make necessary edits such as an address, contact details, images, menus, and service hours.
Order management-Sending order confirmation to the client and checking the status must be very smooth.
Payment received easily-You need to manage payments very efficiently. As soon as you get the payment notification and order details, prompt services are essential.
Networking is important-Grubhub like apps utilize several restaurant partners to join them. This creates a huge database for customers to browse out. With so many options, customers would love to stick with your app.
Final checklist to pick the best Food delivery app Development Company:
1. Ask for their experience in on-demand food delivery app development services
2. Consider the Software App Development Company with a decent app portfolio. Breeze through their designs, concepts, and success rate in the market.
3. Look for a swift App development procedure.
It is highly crucial to handle the app development process swiftly. It helps in covering all aspects related to app development and generate a user and owner friendly app. Approach to an app that instantly clicks the user's mind, and they retain its use for a long time.
Ensure if the app development company follow standard coding norms and frameworks
Food delivery app Development Company selected by you must offer a detailed set-up. It comprises lean app development, quality assurance, prompt testing, and repetitive testing. To top up all, in-depth knowledge of coding vigorous strategies is important. You can also search online for the top market entrants offering such app development services at best rates.
Tech-savvy food delivery app Development Company can be helpful, Grubhub and Zomato use advanced technologies to upgrade them. Ensure that the app developer you choose possesses information about Google Places API, Firebase SDK, and internal app algorithm.
Summary
To sum up, the lot of information, start with some basic searches. Get a list of restaurant partners, sum up all databases, and plan promotional campaigns. Above all, pick the perfect on-demand food delivery app Development Company. Start with a local search app and then widen your horizons with high profits zooming in!
Have a word with your app development provider to understand the pros and cons of your idea. Give them complete data on your USPs and ideologies for customer satisfaction. A complete set of information can help them in gaining knowledge about your business. As a result, a mind-boggling app for associated food delivery services will be at your fingertips. Whether it's big or small business, such apps can change your revenue graphs astonishingly!